Corner replacement windows in Lakeside, CA are very special in a home. If you place them just right, they can bring a lot of light into an otherwise dark room. They also allow you to have a panoramic view of that area and they stand out as something different and special. Once the windows are in, you can start to enjoy them, but you might want to put a treatment over them as well. Here are some options to consider.
Place Curtains
Curtains are popular and they allow you to cover the windows, or let them be open to the outside with ease. You can also change curtains out easily, depending on the changing seasons, your style shifts, or what is popular on the market at the moment. Curtains can help with efficiency and give you light-filtering options, too.
Use Shades Or Blinds
Shades and blinds are popular for any window, even corner windows. Shades are made from fabrics while blinds come in other materials, but both can be customized to fit right inside the window frames. It's nice to have them out of the way in that manner. You can raise and lower them when needed and blinds allow you to tilt the slats to shine light in certain ways. They are both customizable and might be something you have throughout your house, so placing them in the corner can help to match that style.
Install Window Shutters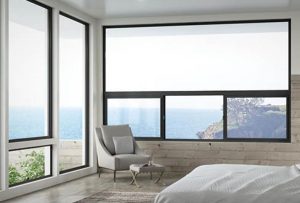 Window shutters are the most valuable option on the market. You can install window shutters over the corner window and you never have to replace them. They are permanent fixtures and can actually raise the value of your home. They are a great way to go on any window and with corner windows, they can help you with any goals you have. You can open them to let in light, close them to enhance efficiency, or direct the light in any way you want with the slats.
Plan To Use Professional Installers
No matter what type of window covering you decide to get for your corner windows, it's important to have professionals install them. There are some that you could install yourself, but it's better to allow the professionals to take this job on. You can then ensure that the coverings will be placed just right and will operate well for you. Plus, if anything goes wrong with the window treatments, you have someone to call to fix things for you. It will take less time and come with guarantees that allow you to have peace of mind over the project as a whole.
When you are going to get replacement windows in Lakeside, CA, you might be including brand new corner windows, and that can enhance your home in great ways. You can then decide what you want to do for window coverings and figure out what would work best for your home and its needs in that space. Talk to the professionals and go from there as you move forward.