Windows
---
LIKE THE NAME SAYS, WE HAVE YOUR "WINDOW SOLUTIONS"
Call the Experts at Window Solutions today to receive your no hassle free in home quote.

We offer a wide variety of window options unlike most of our competitors. We sell several of the top manufactures product lines. With our large volume of sales in apartments, hotels and multi-unit projects, we received excellent pricing from our manufactures that we can pass on to you.
Have a Question?
We are happy to answer any questions you have. Just send us a message in the form below.

Retro Fit Windows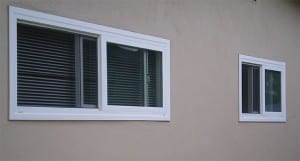 Retro Fit or Replacement window refers to the type of installation used and frame style. This type of window is designed to be inserted into an existing window frame. In most cases this type of install can be done in one day with no exterior or interior wall damage. Retro fit windows have an exterior flange that allow them to cover your old window frame. With a quality installation performed by our factory trained and certified installers we offer a lifetime warranty on the installation. We have several top manufactures to choose from so we can give you more than one option and price to fit your needs.
Call or click today to receive a free no pressure in-home quote.
Warning: If someone pulls your old window frame and intends to install a retrofit you will have a leak! This is not an accepted method of retro-fit installation.
Block Frame Windows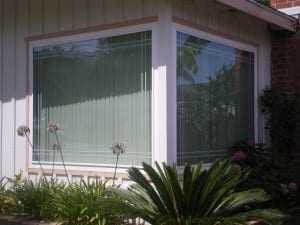 This type of frame style allows the replacement window to be installed into an existing wood framed window or cement block opening. We often use this type of window on the old wood single and double hung window replacements. The new window fits nicely into most existing openings with little trim needed. This allows you to keep the original look of your wood window opening while still having the benefits of new dual glazed windows.
As a note, most pre-1978 homes with wood windows are required by San Diego Building Department to have Lead Safe removal practices used when changing to new windows. Be sure you know the local regulations to avoid a fine. Ask a Window Solutions expert for more details.
Total Replacement
If you don't want that retro-fit look, or would like to retain the original look of your home, we have the answer. Total replacement is when the existing window frames are removed from the house entirely and new windows are installed as new construction.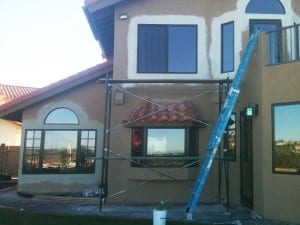 This type of window replacement is not done in one day. We do have to remove some exterior stucco or wood siding to access the original nail flange. Once the old window is removed the interior drywall must be cut back to accept the new wider, more efficient window frame. Then the exterior flashing and waterproofing is re-flashed and a new window is installed. After installation is done, the exterior is repaired to match the existing and the interior dry wall is touched up as well. As you can imagine this process could make quite a mess and lots of dust. Our installers are trained in many techniques to greatly minimize the mess during installation. You wouldn't believe the mess I have seen other contractors created and left behind. With our care and clean up, you will be more than happy.
In some cases, a building permit is needed for this type of window replacement. The price is very reasonable and inspections are very simple. Let the experts at Window Solutions take care of all the work for you.
New Construction
New construction windows are for new builds. Whether you are doing a room edition, or building a condo complex, we can help. We offer excellent pricing and professional installation for all applications. We even have experience installing windows in straw bale construction. A lot of general contractors come to us for our expertise in new construction windows. Whether you are doing a new construction build yourself, or have hired a contractor, we can assist you with your window purchase and installation.
Are you considering changing that window to a French door? We also do cut ins, cut downs, and build ups. In other words, we can convert a window to a door, door to a window, or add in any new opening in your home.