You want the kitchen to be filled with natural light, the living room to have a good view, and the bedrooms to be ventilated nicely. There are a lot of goals you can put into place for your replacement windows in Lakeside, CA, and you can reach them all with the right planning. If you've always felt like your bathroom is a little dark, there are things you can do about that when you get replacement windows.
Recognize Lighting Benefits
Before you move forward with any windows or changes in the bathroom, it's a good idea to remember what the benefits of natural lighting is in that room. You can, for example, have a space that looks larger, even if you do nothing else but add light. Most bathrooms could use some extra space and even if you only have the illusion, it can help. When rooms look larger and more open, they are going to feel more welcoming, too.
Provide Safety In A Dangerous Space
Where do most household accidents happen? In the bathroom. It's easy to trip, slip, and bang your head on things. When you have proper lighting in that space, especially natural lighting that has a way of illuminating a room better, you are going to give your family, and any guests who use the room, more safety. If you can see the water on the floor because the light shows it, you are less likely to step on it unaware, right?
Increase Value In That Room
Every room of the house is going to increase in value because of the new windows you install, but you can do even more for your bathroom by giving you more natural light there. Buyers want spaces that are large and open. The bathroom will look more like that welcoming space with extra natural light.
Replacement Windows Bring The Light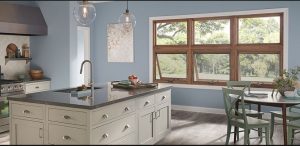 When you get to the area of your house that includes the bathroom, you can add light in a number of ways, depending on your budget and what works for the space. Here are some options to consider:
Light From Above With Skylights
There's not always wall space available in the bathroom, but you may have access to the room in the ceiling where you could put a skylight in. The skylight can bring light in from above and keep the privacy of that room intact at the same time.
Sliding Windows Up High
As you think about the privacy you want and need in that space, sliding windows can give you both when you place them high up on the wall. They bring in the light, they can allow for ventilation, and you keep privacy intact.
Regular Windows, Too
You can also put in regular casement or double-hung windows, but you will want to consider how you are going to maintain privacy. You could get fogged or etched glass, or you can cover the windows with the right treatments.
It's always a good idea to have goals for your replacement windows in Lakeside, CA and the professionals can help with reaching them.