Every home is going to need replacement windows in Lakeside, CA at some point, even if you treat your windows well and they last a long time. Eventually, they are going to wear out, and that means you will have to get new windows installed. One of the reasons you might want to get new windows in the first place is because your old windows simply aren't acting in an efficient manner any longer. If that's the case, efficiency is going to be very important to you when you look at new products. Here are some tips to help you look at efficiency first and get what you need in those new windows.
Find A Great Provider
Before you get serious about new windows at all, you are going to need to find a good provider for the project at hand. Research providers online, look at outside reviews and visit their showrooms. Make sure they are licensed and have lots of experience. That can help you to get what you want in a provider so you end up with efficient windows that will do a good job for your home.
Look Into Materials
Frame materials are going to make a big difference in the efficiency you get for your home with new windows. You can ask the professionals what the differences are in efficiency levels. Vinyl is one of the best options on the market and, to your benefit, it also costs the least. It's usually a good match for a home and it doesn't take any maintenance, either.
Check Those Labels
Each window you look at is going to have a ratings label on it and those numbers are going to tell you everything you need to know about the window's efficiency. In order to read the labels, you might need a lesson from the window professionals. Or, you can research what the numbers need or even write out some notes to help you remember as you look around. The labels are the key to comparing efficiency among different window options.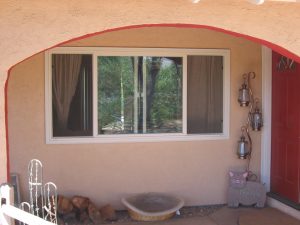 Consider Upgrade Options
Standard windows are highly efficient today and can do a great job for your house. The standards are high and these windows are going to be a lot better than the old, leaking windows you have on your home now. However, if you want even more efficiency in your home, you can look into the upgrades to help you with that. You can get triple pane glass, for example, instead of the standard double pane option. You can get low-E glass coatings to block the heat of the sun, but let the light through. There are other upgrade choices to think about based on your home's needs, your goals, and the budget you have in place.
When you need replacement windows in Lakeside, CA, efficiency is a great goal to have for the project. You are going to want to understand how to find the efficiency you want and need and the professionals at Window Solutions are here to help.