It's common knowledge that windows and natural light make a space feel larger, as do lighter colors, glass features, and minimal clutter. But, adding natural light isn't always an overnight task. For the small kitchen owner, it can be frustrating to take on a kitchen revamp when its functionality has worn you down over the years.   
Revamping your small space doesn't have to be overwhelming, though. Check out these four ways to make a smaller kitchen feel large and inviting.   
The Windows   
The first thing homeowners need to consider when searching options for Poway, CA windows is how to maximize the amount of natural light entering the kitchen space. There are three options that are sure to accomplish this:  
Minimal window treatments. A small fabric valance provides two benefits to a small kitchen space: it adds softness to the architecture of the window frame and easily completes a finished look. The bonus is that a valance accomplishes both of these things without compromising light. 

 
Replacement windows. Replacing a small sink-top window with a window that reaches the ceiling is a great way to draw the eye upward; thus, enlarging the appearance of the room. Additionally, if there is a bare exterior wall in the kitchen, adding a bow window will provide literal floor space (perhaps, for a breakfast nook) as it provides extra natural light. 

 
Skylight windows. No wall space to add more windows? A skylight is the perfect solution for added light. 

 
The Cabinets   
Replacing solid cabinet doors with glass front doors is a trick many designers use for smaller kitchens. The square footage in the room appears to open up due to the walls of the room seeming to be farther out.   
The Colors  
Lighter hues make anything look bigger. So, when homeowners forgo their once-trendy red walls for white or cream paint, the room seems to nearly double in size. Another trick is to match the cabinet colors to the wall paint. In doing so, a seamless space without edges or contrast to stop the eye emerges, enhancing the room.   
The Clutter   
Clutter will make any room feel crowded. This is especially unfortunate in a tiny kitchen. Clutter is defined in two ways:  
Visual clutter. This kind of clutter may not sound like clutter at all. But, it has the same effect on the overall ambiance of a space. Visual clutter includes too many colors, too many wall hangings, too many mismatched magnets on the refrigerator, and/or too many textures. 

 
Physical clutter. This is the type of clutter we all know about. Physical clutter includes too many kitchen utensils or appliances atop the counters, too many spice jars, and unsightly cords reaching across surfaces.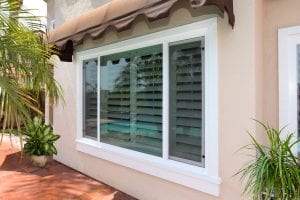 Here at Window Solutions, we love to enhance small spaces with windows that will instantly enlarge the whole room. If you're sick of your cramped cooking space, give our team a call and let's check out Poway, CA window options that will open up your kitchen. Our experts can be reached at (619) 285-0515 or (760) 741-0601 and our showroom is just around the corner, at 613 W. Main Street, El Cajon, CA 92020. We hope to meet with you soon!