Every home comes with windows and while those products last for a long time, they don't last forever. As the homeowner, you get to figure out what you want to do with your home and when. You could need replacement windows in Lakeside, CA at some point and it's important to know when that is necessary. Here are a few signs you can watch out for.
Your Windows Leak Air
When the windows leak air, that's a sign that they are in need of repairs or, worse yet, replacement. Talk to the professionals to see if replacement is what you need to be sure. If the windows are on the old side or the leaks are really bad, you can guess that replacement is necessary. You know your windows are leaking air when you can feel the air coming through the windows, especially on a windy or cold day. You might see an impact on your energy bills, too.
There's Condensation Between The Glass Panes
You might see condensation on the outside of the glass, or even on the inside of the glass, and that's normal and something you can make adjustments for and fix. But if there is condensation between your double glass panes, that's a problem. That means the seals are broken and there's nothing you can do to fix that. Instead, you are going to have to get replacements in order to get the windows in working order again.
The Windows Stick Open Or Closed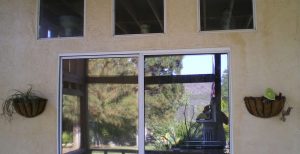 Windows are meant to function well and a big part of their functioning is opening and closing. If your windows stick open, or won't open at all, it's a good idea to get them replaced. You could get new windows that have the flawless operation. Not only can they ventilate your home, but they are going to allow you safety and security. You have an emergency exit when you need it.
Your Windows Are Decades Old
Windows have an 'end date' on them and it's important to know the age of your windows. If you know they were put in when the house was built and the house is several decades old, that's all you need to know. They are past their end date and anything that goes wrong with them likely isn't worth fixing. Instead, you should replace them and start over with new windows.
If you are looking into ways to improve your home, there are lots of different things you might want to do. But there are some things that will make a bigger difference than others. Getting replacement windows in Lakeside, CA, for example, will change your home for the better in many different ways. You will have further energy efficiency, for example, and your home will look new and fresh again from the curb. Your home will be comfortable inside and you are going to instill value into the house that it didn't have before. Contact the professionals for a free consultation and move forward with the options from there.