Deciding on the kind of replacement windows you want for your home is something that can take time and that you want to think about with care. A lot of people these days are choosing to have casement windows in their homes and that may be an option that you are considering. If you are but you are still not certain if it is the best option, there are some benefits that providers of replacement windows Lakeside, CA want you to know.
One of the benefits of casement windows is their versatility. You can fit casement windows in most home styles, allowing you to get the exact look you want. Casement windows can be made of lots of different materials and styles, so whether you have a more classic style or a more modern one, this kind of window can still look great.
Another benefit that doors and window replacement providers want you to know about casement windows is that they can offer energy efficiency. As with cleaning, casement windows have fewer moving parts and this means fewer spots that can allow drafts in. If you are getting drafts in your home, you will not be able to get the energy efficiency that you need and it may mean that your heating and cooling units have to work harder to keep the home at a comfortable level. A casement window can offer efficiency, saving you money and stress.
Another benefit that casement windows can offer is the amount of ventilation they offer. With single or double-hung windows, only a part of the window can be opened. A casement window allows you to open the entire thing. If you want to be able to get lots of fresh air, then a casement window can be a great option.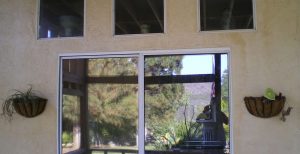 Casement windows also offer security. These windows tend to have multi-lock mechanisms that are very hard to open and this means that you will not have to worry about anyone breaking in. This is something that is important to consider. You can even pair casement windows with impact-resistant glass to get the most out of the windows.
The amount of light that casement windows offer is another great benefit. This can be important if you have small rooms, where lots of light can make the room appear larger. You can also get unobstructed views with this option.
When deciding whether or not casement windows are a good option for your home, you want to remember all of these things. They can be versatile, allowing you to include them in all manner of room styles, and they can also be easy to use, making them ideal for areas like the above sinks. You can also expect great energy efficiency from them, allowing you to save money in the long run. If you want to know more about casement windows, you can reach out to a replacement windows Lakeside, CA provider like us. We have years of experience helping people get the kind of options they want for their homes. You can give us a call right now or you can stop by our location to speak with one of our experts.