When you have decided it's time to sell your home and move to a new location, there are things you might want to do to your current home in order to place it on the market in good condition. If you have a realtor come through, they might even suggest replacement windows in Lakeside, CA, or other smaller projects to help your home come across as good as possible for the potential buyers who might want to place a huge investment into the property. Here are some of the things to consider doing.
Paint The Walls Fresh Colors
There's nothing like a fresh coat of paint to make a home look nice and attractive. You can paint the interior and stick to neutral colors so that any potential buyer can see their own style in the rooms. You can also slap a new coat of paint on the siding to make sure the exterior looks nice as well. Paint doesn't cost all that much and it doesn't take too much time to do. It can make a difference in how many people come through your house and how much they are willing to pay for it.
Update The Landscaping
The landscaping on the home is one of the first impressions you will give to people who see pictures or drive past. IF it's overrun with weeds and dead bushes, that's not going to appeal to anyone. Weed the areas, take out anything dead, and trim back overgrown bushes. Perhaps plant some fresh annual flowers and update the look so it's bright and inviting to anyone who might consider your house.
Refresh The Front Door
The front door is another item that will give a first impression, either good or bad. If your front door is chipped and peeling, painting it can help to draw the eye to the home's entrance in a good way. You might even completely replace the door to get something that has windows cut out or will really make the porch look good. Consider hanging a welcome sign or wreath from the door as well to decorate that entrance nicely.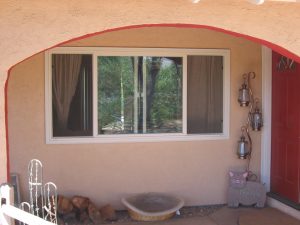 Get Replacement Windows
If your home has older windows, it's going to be worth a lot less and fewer people are going to want to look at it. Homebuyers know a house with good windows when they see it and they want to move into a home that is going to give them comfort and nice, low energy bills. While it might sound silly to you to make a big investment into a home that you are leaving, when you put in new windows before you put the house on the market, you can ask for more for the home—and get it. More people will want to look at the house, too, since it'll have a fresh curb appeal.
When you are about to move, look into replacement windows in Lakeside, CA and the professionals at Window Solutions can give you advice as to whether or not it's to your benefit to get new windows.