When you get replacement windows in La Jolla, CA, one of the things the installers will tell you to do is remove your window treatments before they arrive. That way, they have easy access to the windows and they can get started right away. However, once the windows go in, you might hesitate in putting those old window dressings back up. Perhaps they are old and outdated as well or maybe you got windows to go with a new look and the window treatments don't work with that look. Whatever your reasoning, it's certainly a good time to consider new window dressings since they are all down and out of the way anyway. Here are some elements to consider if you decide to go that direction: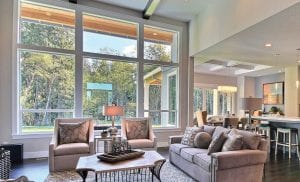 Go With Value
You will want to think about the fact that you just invested in new windows that raised the value of your home. You don't want to put some chintzy window dressing over it and make it look cheap compared to how it should look. Instead, go with something that is also valuable to make the look complete. Window shutters are high in value since they are permanent fixtures that insulate a home and look nice.
Consider Functions
If you wanted to get new windows, in part, to let in more natural light, you don't want a window covering that covers half the window at all times. That just doesn't make sense. Get window shades that roll up right and are out of the way when you want to let the light in, but can be lowered when you need privacy. Consider the reasons you got your windows and make sure the window treatments you choose don't impede on those reasons.
Timeless Style Works Best
There are plenty of different window coverings out there and some are very popular now. Rather than get something that works for today's trends, try to get something that is a timeless classic that will work well with your windows now, but will also work with changes you might make in your house later. You want this change to be positive and lasting so you don't have to go through the project again any time soon.
When you're ready to get replacement windows in La Jolla, CA, start thinking about your preferences on window treatments to go along with them. Check out your budget and see what you have to play around with after you choose just the right windows. You might want to do it all at once since the window coverings will be down anyway. If you're ready for advice on new windows, contact the professionals at Window Solutions by calling (619) 258-0515. We're here to give you suggestions and point you in the right directions so you can have the windows that are best suited to your preferences and your home's specific needs. You can also look over options and details in our showroom at 11632 Riverside Dr Lakeside, CA 92040. Our website is a great place to start. We're located at Sdwinsol.com.