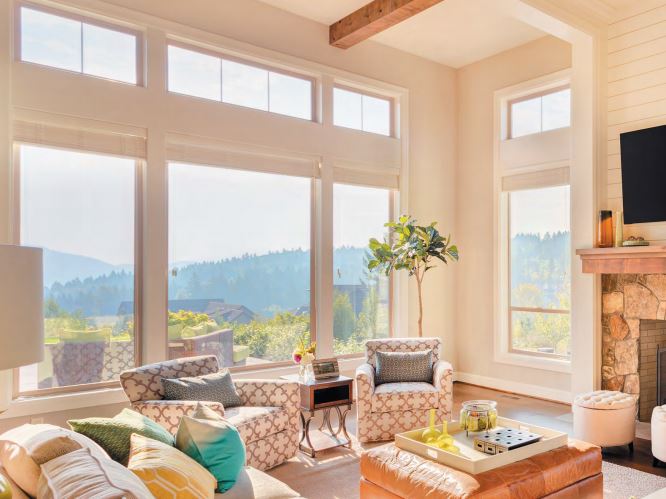 Window Solutions is one of the largest full-service glass shops in San Diego. We specialize in replacement windows and doors. We also offer a wide variety of other glass services to meet all of your glass needs. Our company is family-owned and operated. For over 50 years our family has been serving the glass needs of San Diego and surrounding areas. We believe that in order to do a quality install that will last a lifetime you must use only the best quality install supplies. You may call us at (619) 258-0515 or reach us through our contact form here.
Client Reviews
The windows and doors on your home or office can have a strong impact on the overall style and appearance of the building. If you are looking for a way to upgrade your home, we invite you to contact us at Window Solutions. We specialize in all types of La Jolla, CA replacement windows and doors, and we will gladly help with anything that you need.
It is important that you are selective about the company that you choose to work with, because your choice will impact the quality of services and products that you receive. Customer service is our top priority, and we want to make sure that you are happy with the new installation in your home.
Why Do You Need New Windows and Doors?
There are many reasons why homeowners or office building managers might consider new doors and windows. One good example is for a renovation, because windows and doors can have a direct impact on the style and aesthetics of the home. Replacing windows is a great way to give the building a facelift and improve the overall "look" of a home.
Another common reason why people consider replacement windows and doors is because they are interested in the energy efficiency benefits. If you are looking for a way to decrease your monthly utility bills, contact us at Window Solutions to discuss how we can help. Even though the replacement windows will be a bit of an investment up front, it is easily worth the cost because you will save money in the long run.
When Do You Need Replacement Windows and Doors?
Right now is a great time to replace the doors and windows in your home! The sooner the project is completed, the faster that you will be able to benefit from the new installation. Whether you are trying to improve the energy efficiency or you want to upgrade the appearance of your home, we can help!
It is especially important for you to take fast action if the window or glass was broken for any reason. Repairing the damage will ensure the safety of your home, and will restore the appearance as well.
If you are planning to sell your home in the near future, then you should think about replacement windows to increase the value of your home. Take care of these upgrades right away, allowing you to enjoy the upgrades before your home sells.
Common Types of Replacement Doors and Windows
At Window Solutions, we understand that every person has unique needs and preferences. We want to be sure that the finished project turns out exactly as you had imagined, so we will work hard to help you find the right doors and windows for your individual needs. There are many options to choose from, and we can help you select the windows of your dreams.
Some of the most popular products that we offer include:
Doors
Windows
Mirrors
Glass Repair
Glass Replacement
Custom Glass
Shower Enclosures
We can install windows, glass, and doors in any area of your home. Explain your dream home to us, and we will help you create it! We have many of the popular products such as vinyl windows and patio doors, or we can offer custom solutions if there is something specific that you are looking for. The possibilities are endless, and we want to help you make the right decision for your home!
Benefits of Vinyl Windows
Many of our customers prefer to have Milgard® vinyl windows installed in their home, because they understand the numerous benefits that are available from vinyl. With vinyl windows, you can enjoy the energy efficiency without spending a lot of money on the initial installation.
Vinyl is also very durable, making it easy to care for. Unlike many older window and door frames, you don't have to worry about sanding or re-painting vinyl. It holds the color well and stays nice even in harsh weather conditions. Vinyl will last for many years, so make sure to choose a color that you will be happy with for a long time!
Cost of Replacement Windows and Doors in La Jolla, CA
When it comes to replacing windows and doors in La Jolla, CA, homeowners can expect to pay a premium price due to the high-end nature of the area. The cost of replacing windows and doors can vary depending on the type of material, size, and style selected for the project. Homeowners may also consider the energy efficiency of the windows and doors, as this can lead to long-term savings on energy bills. The cost of installation can also influence the total expense, as the complexity of the project and the availability of skilled contractors in the area can impact the overall price. 
Choosing the Right La Jolla, CA Replacement Windows & Doors Contractor
It can be a tough decision to pick a contractor for your replacement windows and doors, and we understand that you have many options to choose from in La Jolla and the surrounding areas. We have worked hard to develop a strong reputation in the area, and our goal is to be the highest quality window and door provider in La Jolla.
Whether you are putting windows and doors in a new home or you need help with upgrades in an older home, we are here to help! Feel free to get in touch with us at Window Solutions anytime for more information about the many options that are available: (619) 258-0515 or you may visit us at our showroom located in 11632 Riverside Dr Lakeside,CA 92040.
Replacement Windows & Doors FAQs
Vinyl vs Wood? Which Windows are the Best for Your Home?
Do you love the appearance of wood windows, but you want to improve the durability and style of the windows? Before rushing into the decision that wood windows are right for your home, you should compare the differences between vinyl vs. wood. You need to make sure that you choose the products to improve appearance and function at the same time. The best thing that you can do is schedule a consultation for an expert or learn more about which windows are the best here.
What are the Benefits of Vinyl Windows?
When it comes to choosing the right material, keep in mind that vinyl windows, improve comfort and reduce utility bills. Older windows lose about 30 percent of cooled or heated air. So, a lot of the money you spend to keep your house cool is literally going right out the window. Learn more about vinyl windows here.
What are the Common Mistakes to Avoid When Getting Replacement Windows?
You will likely replace your windows once, maybe twice in the lifespan of your home. So, you can understand why replacement windows are not only a significant investment but also something a lot of homeowners get wrong. And when it comes to replacement windows, mistakes can be costly. If you want the job done right the first time, here are the mistakes you need to avoid.