There are lots of different things that are popular for replacement windows in Lakeside, CA and you are going to want to consider the popular items for your own home. Not only do you want to look at those options, but you may want to know why they are popular so you can seek the proper fit for your home. Here are some of the reasons why classic, black windows are so popular in today's window market.
1-They Give A Modern Look
While white windows are also classics and will look good with any home color, you can put a modern look onto your home when you place black frames on your new windows. The black frames will stand out against the light color you have in your home and that contrast is highly modern. It's nice to know that you are able to upgrade your home with a new look while you get further efficiency and other things you need.
2-They Are Easy To Match
Black windows aren't going to go with every color, but they go with most. If you have a light color in your home, you can place black windows on the house and know that they'll fit in well. You can paint the home any other light color in the future and get that same great contrast. You don't have to worry about trying to find a color that will look a good many colors work great with black.
3-They Frame The New Windows Nicely
When you get new windows, you are making a large investment in your home. You want those windows to stand out. Any windows will look new and fresh and they will give your home further curb appeal. But when you get black windows, they will frame the windows, so to speak, and make them stand out even further. Your windows will look good right away and well into the future.
4-They Raise The Home's Value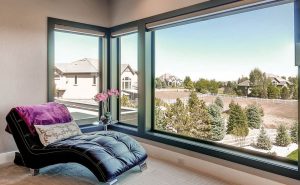 New windows of any kind are going to raise the value of your home, but when you get something attractive, like black windows, you can raise the value of your home even further. Black isn't as prevalent as white, but it's highly popular today and can make the windows really stand out as the new, efficient products that they are. You can sell your home for a higher price because of the windows and you can also look forward to selling faster than you might have otherwise, all thanks to those windows.
If you are going to get replacement windows in Lakeside, CA for your home, you have a lot to look forward to. You will have efficiency for your home as well as comfort, which is one of the most important elements you will get from this project. You can also give your home a fresh new look with black window frames. There are plenty of color options and you can get lots of samples to take home and compare the colors to your home so you get the right fit. Contact the window professionals for your window projects.